Transforming your home with resort style, modern elegance is simple.
Glass pool fencing adds sophistication to any pool area. The elegant finish creates an inviting ambience and highlights an unobstructed view of the pool.
In addition to the aesthetic benefits, our products also offer the complete safety and protection that you require from your pool fencing system. Safety for your family is always of prime importance to both you and to Naturaliste Balustrades.
The glass is made from pristine, high quality, toughened glass and features smooth round edges. Glass fencing is very difficult to climb, keeping children safe while providing and unobstricted view of the water.
Our stainless steel spigots are made of duplex 2205 grade steel.
We supply quality glass pool fencing and pool gates throughout the South West and offer stylish and elegant solutions with a specialist service.


Local Service
Manufactured right here
in Dunsborough.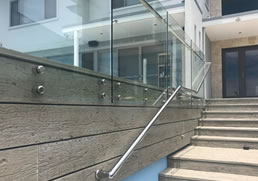 Custom Solutions
Glass and Steel balustrades
and pool fences.
Frameless Pool Fencing
Naturaliste Balustrades offer two options for frameless glass fencing using 12mm toughened glass panels, The Naturaliste and The Cape. The elegance of these designs provide minimum intrusion, yet optimum outlook to your viewing experience. These styles are successfully discreet, yet a reliable reassurance for child safety with no fencing obstruction or interruption to vision.
Semi Frameless Pool Fencing
Semi-framed glass fencing has all the sophistication and style of a frameless glass fence but with an economical price tag. We have a range of semi-framed glass fencing, the posts are manufactured from stainless steel or high grade aluminium and powder coated to the colour of your choice. The 10mm glass is clear, toughened, safety glass and the gate hardware is made from a high polished 316 grade stainless steel. All components are manufactured to the relevant Australian Standards.

Awesome
Glass Pool Fence

Design
The specialists in Frameless and Semi Frameless Pool Fences in the Dunsborough, Yallingup & Margaret River Area